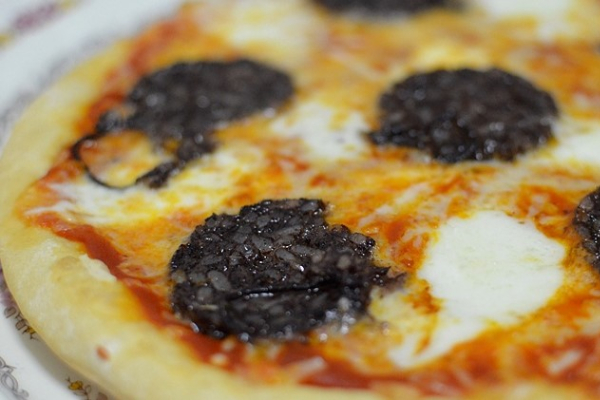 This is a great dish for all of the family or if you are having friends over for a glass of wine. You can vary the toppings to suit your taste. Bacon and brie also works very well. Serves 6.
Ingredients
For the base:
500g strong white flour
7g sachet of dried active yeast
2 teaspoons of golden caster sugar
half teaspoon of salt
320ml luke warm water
2 tablespoons olive oil
For the sauce and topping:
1 x 420g tin of tomatoes
1 clove of garlic
2 tablespoons of olive oil
a few basil leaves
pinch of salt
1 x Jack & Eddie's Black Pudding
Goats Cheese
Peppers (optional)
Parmesan
Method
Mix the salt, golden caster sugar and yeast in the luke warm water and set aside for a few minutes.
Spread the flour on a flat surface. Create a well in the centre and add the liquid mixture slowly stirring with a fork. Knead the mixture for 10 to 15 minutes. Cover in clingfilm and leave to expand for 30 minutes. Preheat the oven to 220C.
Meanwhile, make the tomato sauce. Chop the clove of garlic and add to a saucepan with 2 tablespoons of olive oil. Cook on a low heat for 1 minute then add the tin of tomatoes and the basil and reduce for 25 minutes on a low heat, stirring from time to time.
Break the black pudding into bite size pieces and cut the goats cheese into similar size chunks. Roll one fifth of the pizza dough. Spread some of the tomato sauce on the dough and add the toppings and some parmesan cheese. Cook for 7 to 10 minutes until crispy on the edges. Drizzle some extra virgin olive oil on the pizza before serving.