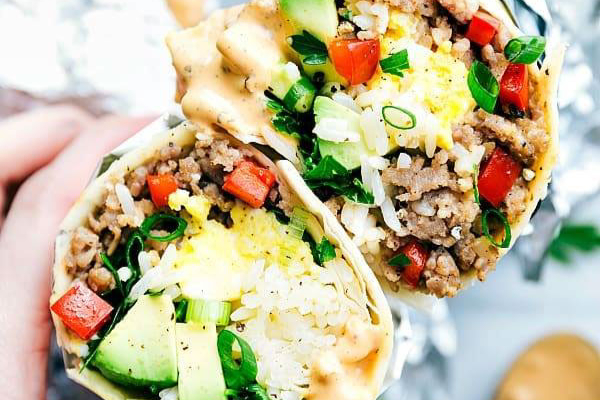 The only word for these burritos is savage. Loaded with sausage, eggs, tomato, and rice and drizzled in a sriracha mayo dressing, they are the perfect weekend breakfast or brunch.
Ingredients
4 Jack & Eddie's Finest Pork Sausages (chopped)
1 red bell pepper
4 large (burrito-sized) tortillas or wraps
4 large eggs
Salt and pepper, to taste
¼ bunch of Italian flat-leaf parsley
1 bunch green onions
1 large avocado
1 and ¼ cups cooked white rice
½ cup full-fat regular mayo
2-3 tablespoons Sriracha
Method
In a large frying pan over medium-high heat, cook the sausage until just browned through.
Add in the diced red bell pepper and saute for another few minutes until the peppers is crisp tender. Remove from the pan and divide this mixture evenly among the four tortillas.
In the same pan (drain any grease), add in the eggs, milk, and salt + pepper to taste. Scramble the eggs to desired doneness and again divide the eggs evenly among the 4 tortillas.
Coarsely chop up the parsley and dice the green onions. Add an even amount to each tortilla.
Thinly slice the avocado and add ¼th of it to each tortilla.
Divide the cooked white rice evenly among the tortillas.
In a small bowl, whisk together the mayo and Sriracha with a dash of salt + pepper. Pour this mixture on top of each burrito (to taste) and tightly roll up the burritos. Enjoy immediately.